Trio Šmite Kārkle Cinkuss
---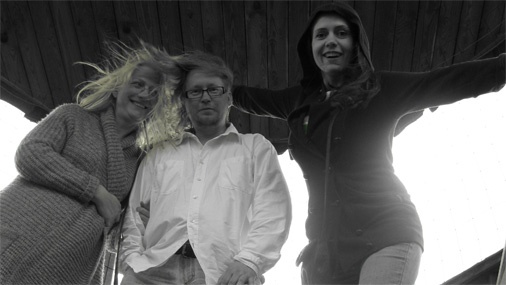 Zane Šmite vocals
Kristīne Kārkle vocals
Ivars Cinkuss vocals, drums

The trio is a group of professionally trained musicians and friends who cooperate in different musical projects and have lately found a common enjoyment in the traditional Latvian a cappella folk singing.
Zane Šmite is one of the few professionally trained Latvian vocal teachers of traditional singing and a consultant for projects related to traditional singing. She has collaborated with many Latvian musicians in recordings of academic and traditional music both as an arranger and a studio musician, and continually researches traditional singing vocal manner and develops her own skills by visiting the few still remaining elderly singers in the Latvian country side.
Kristīne Kārkle is a student of the Ethnomusicology department at the Latvian Academy of Music. For many years she has been actively involved as a studio and concert musician with the major Latvian folk groups touring Latvia and around the world. In addition to performance activities, she currently teaches traditional violin playing to the students of ethnomusicology at the Latvian Academy of Music.
Ivars Cinkuss is a professional conductor and singer. As a conductor he has collaborated with every major Latvian professional choir and orchestra. His recent performances include J.S. Bach's Messe in h moll, W.A. Mozart's Messe in c moll and Arvo Pärt's Passio. As a singer he has performed mostly Baroque period large scale works including J.S. Bach's Johannes and Matthäus' Passionen.

Published by lauska
---
Video
---