Tērvetes trubadūri
---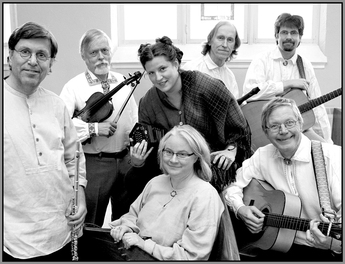 Lauma Cenne vocals, kokle, flute
Kristīna Gūtmane vocals, violin
Ēriks Jērumanis vocals, mandolin
Jānis Mateus vocals, 12-string guitar
Michael Pinsonneault vocals, percussions
Saša Spurmanis vocals, 12-string electric guitar,
Miķelis Svilāns violin
Dace Veinberga vocals, kokle
Andrejs Vītols vocals, flutes

Comprised of musicians from Eastern Canadian cities more than 600 km apart, Tērvetes Trubadūri have been playing and singing together for many years. "Tērvete" is a Latvian property in the Laurentians, and is the place where players and singers from varied musical styles and backgrounds — professional and amateur — have banded together in the pure love of making Latvian music. The group's formal beginning was as headliners at the XIII Latvian Song Festival in Canada (2009).




Published by lauska
---
Video
---