Pērkonvīri
---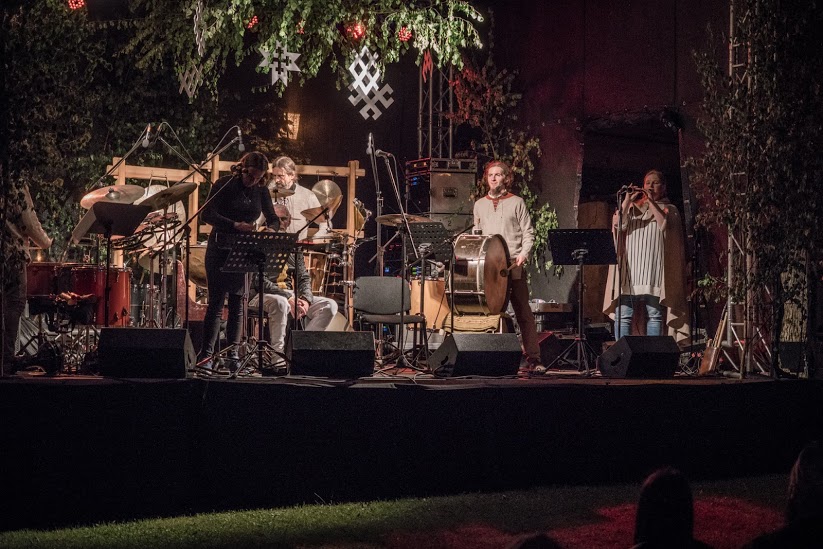 Mikus Čavarts drums, percussions, vocals
Tālis Gžibovskis drums, percussions, vocals
Artis Gulbis percussions, vocals
Kalvis Vītols drums, percussions, vocals
Kristīne Ādmine kokles, flutes, vocals
Ansis Jansons kokles, wind instruments, vocals
Imants Daksis vocals
Inita Šalkovska storytelling

Mikus Čavarts is a well-known percussionist in Latvia and is one of the founders of the bagpipes and drums band Auļi. "Pērkonvīri" – Thundermen – is his project in which he can express his creative journeys and rhythmic inspirations, by inviting other excellent musicians to participate.
Latvian folk melodies and songs are combined with a rich pulsation of rythmic instruments, creating a sometimes grand, powerful, sometimes intimate and poetic sound. The performances of the group create sounscapes that evoke the emotional message of the ancient regional culture – through log drums and kokle sounds combined with ancient folksong – dainas – texts these codes  address the refined contemporary listener.  But in this combination also other World Music elements find their place – African, Indian rythms, meditative and expressive sounds of gongs, Irish drums and many other unusual percussion instruments, as well as more contemporary popular musical influences.
To enforce this time-traveling feeling and to add more dramatic as well as funny accents, the full concert version of the group includes also Latvian fairytales told by storyteller Inita Šalkovska. Storytelling is a genre, where the storyteller not only recites a learned text, but relives the told experience in close contact with the audience.
They call their musical style Music of Latvian World.

Published by lauska
---
Video
---