Nepieradinātā folka orķestris
---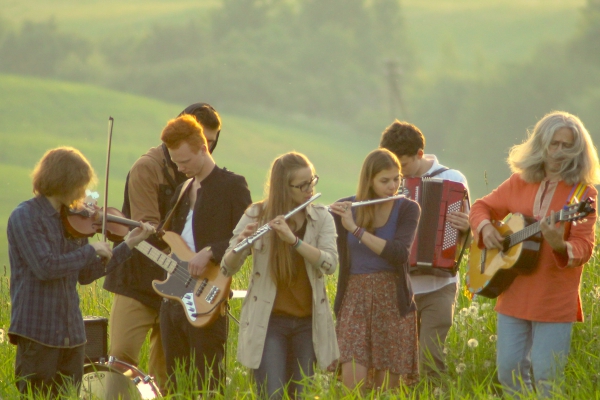 Andrejs Grimms guitar
Nauris Babris drum set
Rūdolfs Bahmanis violin
Katarīna Ignatoviča flute
Līva Upīte flute, ukulele
Kārlis Babris Sax
Klāss Reinis Dzirkalis accordion
Kristaps Grīnbergs base guitar
Kārlis Auzāns cello, mandolin, Greek buzuki, pocket piano

The Future Folk Orchestra (Nepieradinātā folka orķestris) sees truthfulness, not tradition, as the higher value of culture. We intentionally break the boundaries of musical genres and expand them in all directions. We incorporate music that crosses borders of land and time, encompassing folk motifs from Ireland, the Balkan Mountains, Israel, Africa, Malaysia, Russia, Rumania, Estonia, Finland and many other places both near and far. We fuse these motifs with musical excerpts from films and other various popular and contemporary musical elements of authorized music, as well as original compositions from Future Folk Orchestra itself. We discover what connects music throughout the ages despite of their unrelated origins, thus creating a sense of unity amongst all unique cultures of the world.

Published by lauska
---
Video
---